Published at 13/10/2020
in News.
Closed
Hanza Marine Management team also took part in the Worldwide #JerusalemaDanceChallenge. Please enjoy our video.

Published at 18/09/2020
in News.
Closed

The International Maritime Organization (IMO) awarded Norbulk Shipping Ltd. / Hanza Marine Management Ltd. seafarer – 2nd Officer Mikhailo Mironyuk from Odessa, with the 2019 IMO AWARD FOR EXEPTIONAL BRAVERY AT SEA.
DESCRIPTION OF CIRCUMSTANCES AND EVENTS:
The vessel was hijacked by pirates armed with AK-47, knifes and machetes in Gulf of Guinea West Africa. After approximately 2 days of sailing the vessel under control of pirates arrived to Niger Delta, Nigeria. Pirates left vessel with 12 crew members in total including Master and Chief Officer.
2nd Officer Mikhailo Myroniuk left on board with 2nd Engineer and 8 Filipino ratings and remains to be in highest rank from deck officers who remains on board and only one Navigation officer. He was able to navigate vessel from Nigerian waters to refuge port Lome. His technical knowledge was at the level allowing to restore telephone and internet communication on board after destroy. After that, he was able to contact company, nearest authorities and establish contact with French navy. Mykhailo Myroniuk shows him as brave man, able to maintain order on board the vessel and able keep panic of the remaining crew under control.
Moreover, thanks to his professionalism and knowledge we avoided huge oil pollution, great disaster for the whole area marine environment. Position where the vessels was stopped by pirates and left, was very close to shore dangers.
Note, that Mykhailo became the first Ukrainian who receive such an award in 13 years of its existence.
Hanza Marine Management and Norbulk Shipping UK staff congratulate Mikhailo and proud to have such hero in the pool!
Published at 03/08/2020
in News.
Closed
New Energy Efficient Class of Reefer Container Ships Enter Service
Del Monte is introducing a new generation of energy efficient refer container ships Second of the ships in the class, Del Monte Rose, under construction in China – photos courtesy of Fresh Del Monte Produce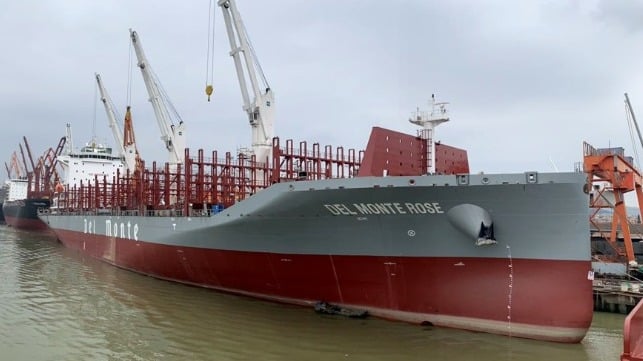 By The Maritime Executive 07-31-2020 06:25:07
Fresh Del Monte Produce recently took delivery on the first of a new generation energy-efficient reefer container vessels. Ordered in 2018, the six ships of this class are designed to the latest energy efficiency standards and are part of the company's efforts to decrease its emissions and enhance the sustainability of its operations.
Designed by Shanghai Merchant Ship Design & Research Institute and built at the CSSC Huangpu Wenchong Shipbuilding Company shipyard, the ships have a highly-efficient modern hull design that improves fuel-efficient while operating at speeds up to 22 knots. They are also equipped with hybrid scrubber systems to meet international emission regulations as well as advanced maintenance technology systems to maximize the operating performance of the ships. They are also fitted with shore power connections to permit cold ironing in ports with the capability.
"We have been working towards this goal since 2017 and could not be more excited to see it come to fruition," said Helmuth Lutty, Senior Vice President of Shipping Operations for Fresh Del Monte Produce. "These six new vessels set the bar even higher, and allow us to deliver the high-quality fresh fruits and vegetables we are known for while meeting our sustainability goals." …
Full news you can read here:
https://www.maritime-executive.com/article/new-energy-efficient-class-of-reefer-container-ships-enter-service
Video you can watch here:

We have following vacancies on LPG fleet.
Please contact Anna Nazarenko anna.nazarenko@hmm.lv
AB, LPG (2 vacancies)
vessel GAS RAY, duration 5m +/-1, salary 1850$/month
Cargo – propane, butane, ammonia
Trading area – mixed
Crew complement – all officers and ratings from Latvia, Russia, Ukraine
joining – 2 vacancies for 18/August
FTR, LPG
vessels GAS RAY, duration 5m +/-1, salary 1950$/month
Trading area – mixed
Crew complement – all officers and ratings from Latvia, Russia, Ukraine
joining – 18/August
Looking for experienced C/O on LPG tanker, DWT 45400 , built in 2000 in Japan, fully ref.
Salary 12 200 USD ( + seniority bonus 200 usd per year + health insurance ashore )
Cargo – propane, butane
Trading area – Mediterranean – Europe
Crew complement – officers from Latvia, Russia, Ukraine, ratings from Philippines
3 months contract
Joining the vsl – 10/January
Please apply online on our website www.hmm.lv or send your CVs by e-mail to: anna.nazarenko@hmm.lv
Candidates to have:
-Valid STCW certificates
-Relevant work experience
-Positive references from previous employers
-Good ability to communicate in English
We offer:
-Stable workplace
-Competitive salary
-Seniority bonus
-Possibility to grow in company
Please apply online on our website www.hmm.lv or send your CVs by e-mail to: anna.nazarenko@hmm.lv
The Company Hanza Jūras Menedžments has open vacancy for Personnel Officer/Crewing Manager.
Personnel officer is responsible for proper manning of the vessels and is a link between seafarers, vessels and clients (shipowners/ship managers).
Requirements:
• At least one year experience in Marine Personnel.
• Experienced in use of electronic database systems.
• Microsoft systems.
• Good communication skills in English, Russian and Latvian.
• Marine education would be advantageous.
https://www.ss.lv/msg/lv/work/are-required/personnel-manager/U3sOGk1rSF0=.html